Conceiving cinematic experiences using new technologies, immersing the spectator ever deeper in a story and allowing them to interact with the events before their eyes… these directions have been explored by many artists and researchers since the Lumière Brothers.
This is also what Emotive VR is all about: creating a cinematic experience in which our emotions can connect with and influence what is happening in front of us.
This artistic and scientific research project, supported by the West Creative Industries program, is led by artist Marie-Laure Cazin, former student at Le Fresnoy National Studio of Contemporary Arts, and now teacher at TALM Le Mans École supérieure d'art et de design, in partnership with LS2N (Laboratoire des Sciences du Numérique de Nantes). The project also received support from the Artex (Art, Technologie, Expérimentation) fund in Pays de la Loire.
After a first project dealing with traditional cinema, this new research focuses on virtual reality and 360-degree video technologies. Through the new prototype developed, the spectator can experience the last hypnosis session conducted by young Sigmund Freud before his invention of psychoanalysis. The viewer can choose to take either the place of the doctor or that of his patient and can thus experience the scene from two different points of view.
Research on interaction and narration
By wearing an EEG (electroencephalogram) headset, the spectator can also interact with the film in real time. Their brain waves, analysed in terms of emotions, influence the sequences, sound and musical atmosphere via the headset.
For Marie-Laure Cazin, who is currently finishing a thesis on interactive cinema, the spectators' uncontrolled acts provide a basis for artistic work.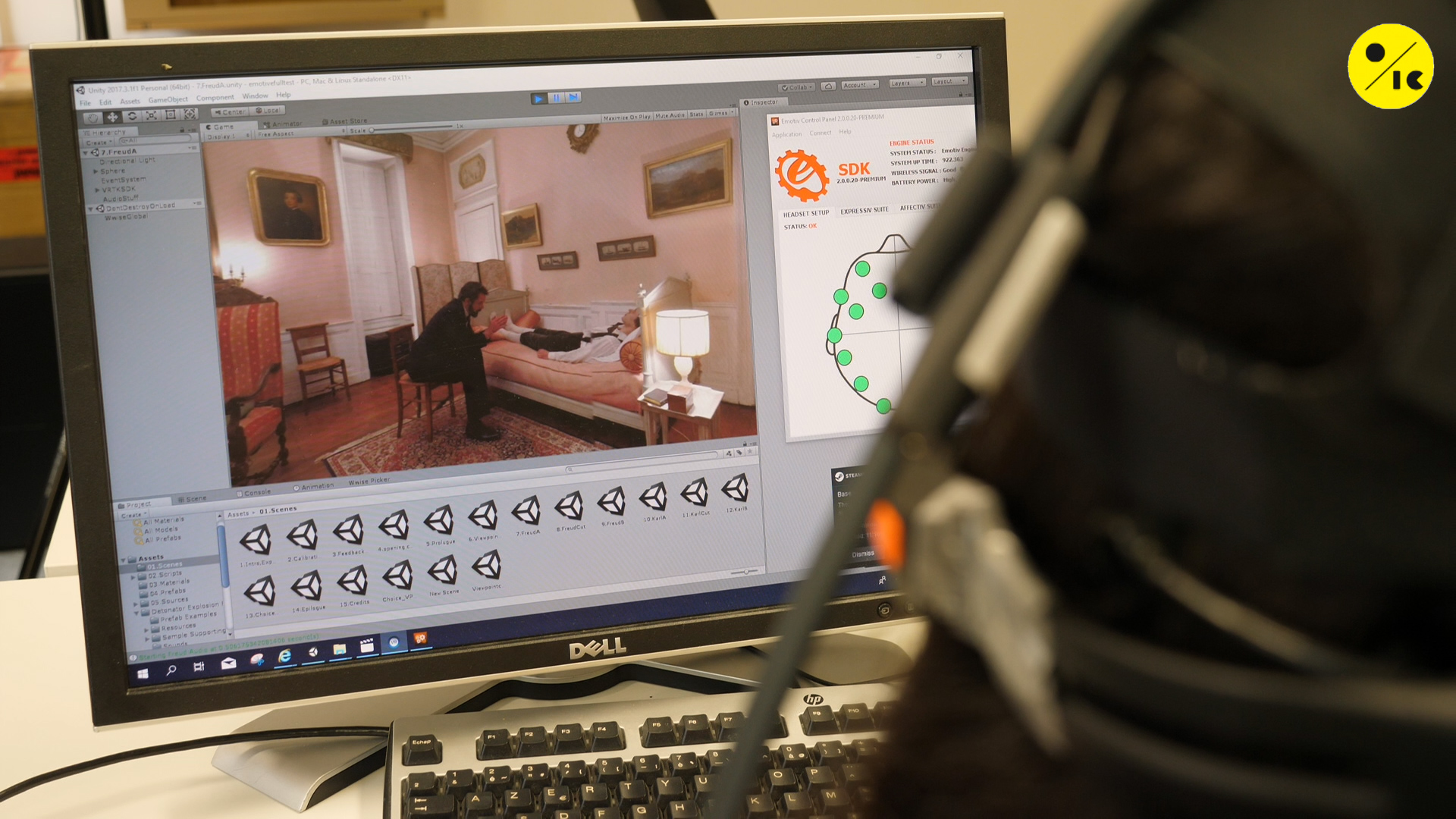 The project required the shooting and post-production of 360-degree video sequences, which was made possible by support from Le Crabe Fantôme and DVGroup companies and work of trainees from the TALM Le Mans École supérieure d'art et de design. For instance, Matias Harju, a Finnish designer, worked on interactive music.
Research on quality of the audiovisual experience
At LS2N, the project corresponds to the themes addressed by the IPI (Image Perception Interaction) team, in particular on the analysis and improvement of the quality of a viewer's experience of an audiovisual work.
To tackle the research issues of this project, Toinon Vigier (lecturer at Université de Nantes) and his trainees thus had to :
design algorithms capable of analysing brain waves in real time ;
understand how a spectator experiences virtual reality ;
find the right ergonomics to combine a virtual reality headset with an EEG headset and ensure an optimal experience for the spectator.
An international project
Emotive VR was presented at ACM International Conference on Interactive Experiences, TVX, (Seoul, Korea, June 2018), at the conference "Virtual Reality (VR) as a Transformative Technology to Develop Empathy", International Summer Symposium (Autonomous University of Madrid (UAM), June 2018), and at the symposium "L'œil distrait", at the Fresnoy Studio national des Arts Contemporains, organized by Labex H2H Paris 8 with Lille University, CEAC, (March 2018).
The international dimension of the project is also based on the involvement of international partners of the West Creative Industries program. Several research internships were carried out by master's students from Aalto University (Helsinlki, Finland) and Hanyang University (Seoul, Korea).
The prototype will be finalized and presented to the public in 2019 at international festivals and residencies, including Laval Virtual (Art&VR Gallery) in March 2019.