On 13 and 14 November 2018, the pedagogical workshop proposed by West Creative Industries and its partners took place for the second time with a new group of lecturers, students and educational advisers. The first workshop had been held in November 2017.
The initial idea for the workshop emerged in the inter-establishment working group led by West Creative Industries, in response to the needs of the actors in the Pays de la Loire region. It provides a space and a framework for lecturers who want to rethink one of their courses.
Immersion in interdisciplinarity
For two days, outside of their daily routines, the lecturers benefit from a collective work of reflection on their challenges.
Each group works in co-design, involving the student end-users and with the support of educational advisers, guarantors of the framework and the method.
The groups are made up of:
a lecturer who presents his or her challenge
a student who has taken the lecturer's course
a student from another course of study
an educational adviser
Each person brings his or her vision and skills to the construction of a relevant proposal.
The educational adviser, trained in the method beforehand, guarantees the smooth running of the process and facilitates the group.
Pedagogical design and design thinking
The creative methods implemented during the workshop, using adjustment reflexive loops, make it possible to bring learning situations to life and to facilitate the development of skills.
Day 1 is devoted to the problematization phase
Day 2 is about conceptualization
This innovative method combining Design Thinking and Pedagogical Design was developed by the Centre for Pedagogical Development of the University of Nantes and the École de Design Nantes Atlantique.
The groups are set up to facilitate reflection on several levels :
inter-establishment
interdisciplinary
intergenerational : students and lecturers
interprofessional : lecturer, educational adviser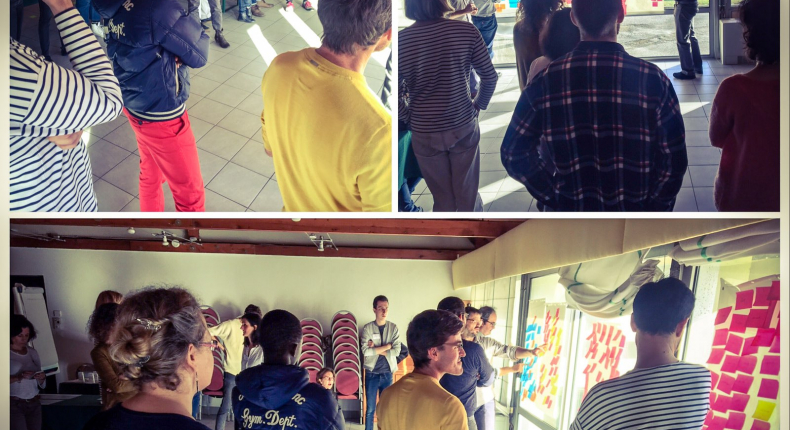 The École de Design Nantes Atlantique and the Centre for Pedagogical Development of the University of Nantes came up with an innovative method for this workshop, combining pedagogical design and design thinking.
Problematization, ideation, construction: successive phases to leave with a new course proposal ready to be implemented.
A result ready for testing in a real situation
At the end of the workshop, the lecturers leave with a concrete pedagogical proposal. To facilitate its implementation, the educational advisers provide personalized follow-up and support for the lecturers.