The Design Factory Nantes is an educational programme jointly run by Nantes Université (and its engineering school Polytech) and L'École de design Nantes Atlantique (design school) to conceive and prototype a product or a service in response to a concrete industrial or public service issue. It brings together multidisciplinary student teams with an innovative approach centered on uses and user experience, and access to prototyping and evaluation platforms Halle 6 Ouest (a building dedicated to interdisciplinarity and innovation at Nantes Université).
From october 3rd to 7th, the Design Factory Nantes took part in an annual event of the international Design Factory Global Network (DFGN), joined in 2022. The members met for this "International Design Factory Week"  in Leeuwarden, Netherlands, hosted by the "Future Design Factory" at NHL Stenden University of Applied Sciences.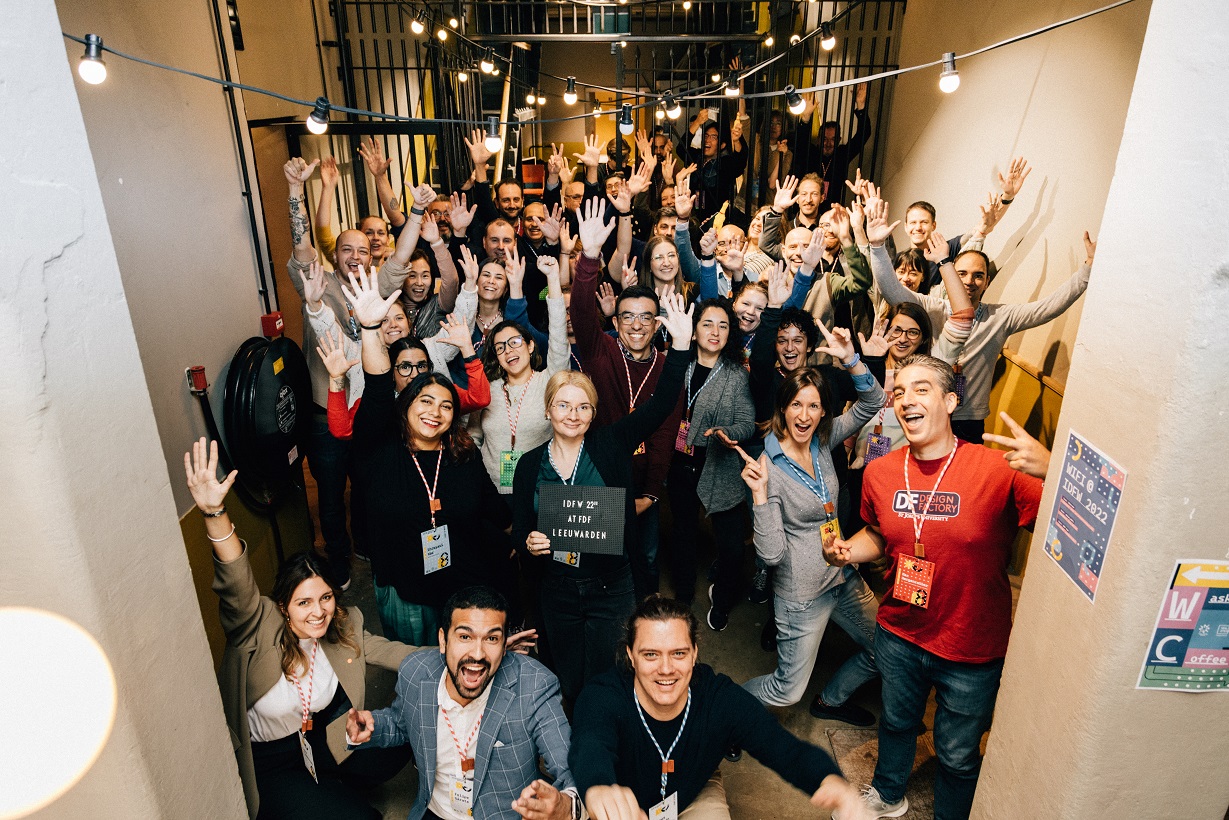 Representatives of Design Factories in Leeuwarden © DF Aalto University
The Design Factory Nantes becomes the 38th member of the Design Factory Global Network
The Design Factory Global Network brings together 38 Design Factories on five continents
The Design Factories are interdisciplinary training and innovation platforms linked to universities or research organisations, all of which have in common that they follow the philosophy of Aalto University (Helsinki, Finland): learning through experimentation and challenge-based innovation, thanks to an interdisciplinary approach at the crossroads of design, engineering and business. Each Design Factory is both a learning space, a place dedicated to creativity, prototyping, experimentation and innovation, as well as a catalyst for collaborations with industrial and public partners.
After two pilot editions, in
2019-20
and 2020-21,
2022
marks the entry of the Design Factory Nantes into the Design Factory Global Network.
In the international landscape, this program has an original focus on user experience, from the genesis of the project to the evaluation of prototypes, in particular thanks to the expertise of the Halle 6 Ouest (Nantes Université) Manufacturing Lab and Experience Lab
.
International Design Factory Week
The network, which relies on a common culture and practices to collaborate across borders, meets once a year in one of the Design Factories. This event allows for sharing mutual knowledge about the different models, develop joint international teaching modules and student mobility programmes, and advancing research on pedagogies aimed at learning through experimentation and interdisciplinarity.
This year in Leeuwarden, 45 participants from 25 countries met from 3 to 7 October. The seminar was marked by the organisation of a first research conference around the DF network, on the themes of pedagogical innovation, pedagogy through design, project and interdisciplinarity, and innovation management. Four people from the Design Factory Nantes (Polytech, L'École de design and West Creative Industries) made the trip with the support of the Pays de la Loire Region and Nantes Métropole as part of the WCI programme.
---

Among its missions, West Creative Industries supports the creation of new interdisciplinary training courses and pursues a strategy of international influence through 5 partnerships, including Aalto University in Helsinki (Finland).  // lifelong learning
The "Design Factory Nantes" is led by Nantes Université, Polytech'Nantes and L'École de design Nantes Atlantique as part of the regional programme West Creative Industries. It is aimed at students in their final year of study also as lifelong learning, who meet every Tuesday from September to February at Halle 6 Ouest. At the end of the programme, a University Diploma is awarded to participants to certify the skills acquired.