EXPÉ [Le Mans] brings together students in sound design (TALM-Le Mans), heritage, acoustics and computer science (Le Mans University) around sound scenography projects. Their goal: to enhance the heritage and history of the old town of Le Mans. For this 2nd edition of the challenge, the students worked on the realization of projects in two historic gardens, in multidisciplinary teams so that each one, with their specific skills, can bring added value to the final product
Bicentennial Square: a listening platform to the rhythm of the landscape
The students imagined three devices installed on the terrace with a view. Through a transparent plate cut out according to the landscape and thanks to an immersive listening device, the visitors project themselves into the urban environment thanks to poetic references evoking the history of the observed place.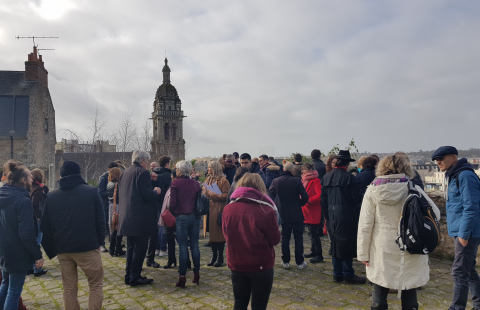 The terraces of the orchard: a rock-furniture producing sound according to the weather

The students imagined three metallic rocks whose aesthetics are reminiscent of street furniture, for a harmonious integration into the space. Connected to a weather station, they conceal transducers which, by vibration effect, generate sound creations that fluctuate according to climatic variations. Intending to be interactive, this mood device is controlled by a desk: the public selects one of the 4 sound settings offered, each referring to a surrounding heritage element. On February 14, a rock was tested, piloted by a console still in a prototypical state.
Permanent installation of the devices for the summer tourist season

The two fully functional prototypes, one per garden, were very successful. All the scenographic devices should be perpetuated at the end of the challenge, to complete the summer tourist visit of the old town. This initiative, supervised by teachers from the two universities/schools (TALM Le Mans and Le Mans University), was supported by the expertise of the culture, tourism and heritage departments of the City of Le Mans and is receiving support from the Pays de la Loire Region, the City of Le Mans, TALM Le Mans and Le Mans University.