The Robotic Interaction module comes in anticipation of the new Masters programme in Computational Design and Mechatronics (starting Autumn 2018 at the École Supérieure des Beaux Arts in Le Mans). It gives students at Nantes IUT and ESBA-TALM an opportunity to work with computational design and robotic production methods in the built environment. The teaching format encourages students to question existing links between their two respective fields: automation and design.
WINNER OF THE 2016 CALL FOR INNOVATIVE INITIAL EDUCATION PROJECTS
With a view to developing new, long-term pathways and courses, these modules anticipate the skills socio-economic stakeholders are going to require in the future.
Two partners
École Supérieure des Beaux Arts TALM Le Mans : Spatial Design (city spaces) second year of the programme cycle (first-degree) and fifth year of the project cycle (Master 2)
Nantes IUT: School of Mechanical Engineering and Computer-Integrated Manufacturing and LS2N (Université de Nantes)
About the module
The module takes the form of a workshop with three stages (design and optimisation/production/presentation and exhibition). Robotic Interaction starts from the observation that all the tools and processes involved in design are becoming automated on a radical scale; continually reducing the amount of human input required. The main assumption underpinning the workshop is the issue of replacement in the world of design – with automation taking the place of gestures, calculation taking the place of reasoning, and statistics, ultimately, taking the place of social purpose. Students will test a robotic reticulated structure and consider the potentialities of robotic constructions in complex habitable settings.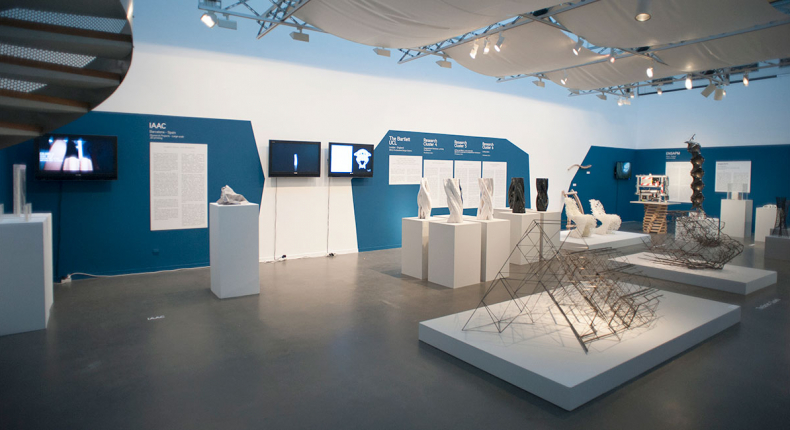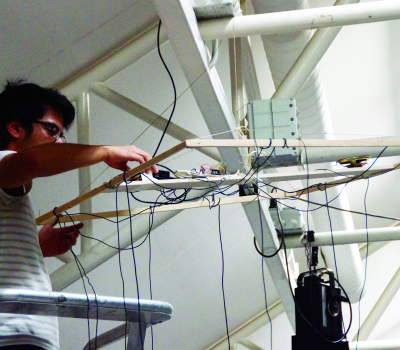 Teaching and Accreditation arrangements
The aims of this innovative new course intersect the disciplines of design, architecture, art, robotics and, more broadly, mechatronics.
The workshop's key words will be: a cross-disciplinary approach, collaborative project management, production of machines and works, and multi-level intelligence
4 ECTS credits
Prospects
This module prefigures the way academic partners in the Loire will structure/define content and pool resources/expertise under the new programme in Computational Design and Mechatronics at ESBA-TALM Le Mans (as from September 2018).
Schedule
Phase 1: design workshop 3-6 April, Le Mans
Phase 2: production workshop at both sites (Le Mans/Nantes) with mixed teams 28 April-1 June
Phase 3: exhibition date tbc
Deliverables expected
Students will produce a full-scale reticulated robotic structure by the end of the project.
Numbers
1 workshop
Implementation of a robotized cross-linked structure, reflection on the potentialities of robotic assembly for complex living structures
3 phases
design and optimization / manufacturing / final exhibition
Actors